Once again, the haze is back, and this time, with a vengeance. Word has it that there were satellite imaging of larger scale arson & deforestation, with a lot more hot spots across Indonesia, as opposed to past years. Needless to say, the trans-territory health hazardous haze & air contamination is something that everyone needs to deal with.

In the following illustration, you may choose to agree or disagree, but here's how I'd put it in layman terms for a better understanding.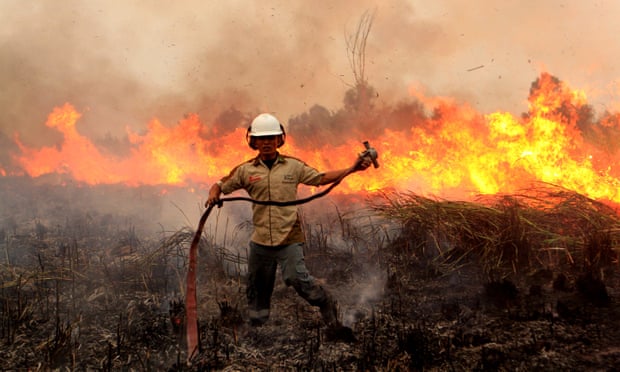 Globalization in the world of business & commerce demands that big MNCs outsource their labor & services, and/or sprinkle satellite assets all around to lower some operation costs. Hence, choosing to plant facilities in developing or under developed territories is the preferred move.
Indonesia is one of the very few territories with the most underutilized landmass in the region. MNCs with deep pockets would obviously be flocking to have their facilities planted across the designated parcels of land.
So, assuming it's going to cost the MNCs 3 years with a budget of $30M, to level the ground via conventional logging; before ground breaking can be done to erect facilities, with possibly another 3 years with a budget of $10M, before facilities are up and ready to run. Meanwhile, the economy doesn't halt and wait for their facilities to be up and ready.
Or, they could hire a local pauper as scapegoat, for a handsome fee of several thousand bucks, just to light a match, or be a little charitable to bear the legal costs & penalties. They'd have the land raised to the ground in merely a matter of weeks, hence shortening their risk of opportunity cost.

In the world where dollars and cents speaks loudest, it doesn't take rocket science to know which method is preferred.
This annual trend of the season of haze has been ongoing for decades, and in recent years, the severity had only escalated. And the change of climate patterns only serves to aggravate matters.
Is there any solution to the situation?
Well, it should be a little more cost effective to make good use of deserts, instead of forested areas. For one, there's no need to deforest, and development can take place almost immediately. Hence, causing lesser damage & environmental scars.

If we take the time to study the map of the earth, there are plenty of deserts and plains readily available, and untouched for eons since human civilization has taken place. Now, with technological advancements, there's no reason not to explore the use of desserts. Heck, the famous Las Vegas was built on a desert~!
Further to add, man made forestry, integration of green & sustainable architecture, and/or sub-terrain development, these efforts should be celebrated as a small step towards preserving the planet for our future generations.